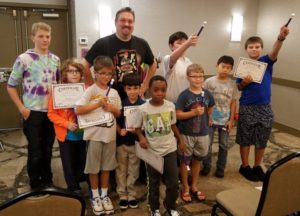 Ring 50 is proud to host Counts of Conjuring, a special program for children ages 8 to 16.  Counts of Conjuring was created to encourage and teach kids about the field of magic.
The Counts meet at 6 p.m. on the first Wednesday of each month except July, one hour before the regular monthly Ring 50 meeting.  Each month, the Counts learn a new magic trick and tips on how to perform magic.  One Count even performs that month's trick at the regular meeting!  All Counts are welcome to attend the regular meeting and program, as well.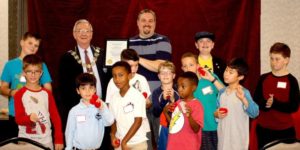 Counts of Conjuring is free to attend, excluding the cost of magic tricks.  A complete kit of magic tricks for one year of the program may be purchased online and picked up at the next meeting.
The instructor for the program is former Ring 50 president Louis Meyer.  In 2017, Louis received a president citation from I.B.M. international president Bob Patterson for teaching and inspiring young magicians through the Counts of Conjuring program.
For more information about the Counts of Conjuring, or to join the email list, contact Info@SchoolofConjuring.com .