Magi-Whirl Gala Show – May 5, 2018 – 7 p.m.

West Potomac High School, 6500 Quander Road, Alexandria, VA  22307
Doors open at 6 p.m.; Close-up shows in the lobby from 6 p.m. to 7 p.m.
See award-winning magic at the D.C. area's best magic show of the year!  The Gala Show is open to the public — get your tickets now!
Tickets are just $15 in advance for adults and $10 for children, a savings of 25% to 33%!  At the door, ticket prices will be $20 for adults and $15 for children.
Kohl &
Company

Renowned
Comedy Magic

Krystyn
Lambert

Mind-Blowing
Magic

Scott
Green

Professional
Family Magician

JT the
Unstoppable

D.C. Magician
of the Year

Eric




Henning

Master of Ceremonies
---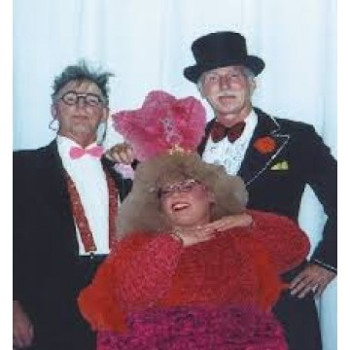 Kohl & Company
Combining classic vaudeville with modern day magic, slap-stick musical masterpieces, and fall-on-the-floor audience participation, this act is truly "one of a kind".  For over 30 years, this comedy magic team has performed their madcap act throughout the world. From Atlantic City to Las Vegas, from Canada to Guam, Tokyo, Chile, London, Holland, Italy, Paris, and many more.  Magic Magazine calls Kohl & Company one of the top ten comedy acts In magic today.
Kohl & Company was invited to perform as special guests at the F.I.S.M. world magic competition; appeared three times in Las Vegas on the Jerry Lewis telethon; became the only comedy magic act to receive the Siegfried and Roy "Golden Lion" 1st place award; and is the only magic act to receive the "Life-Time of Laughter" award from the International Clown Hall of Fame.
---

Krystyn Lambert
Krystyn Lambert has become one of the most recognized female magicians in the world. Her extensive domestic and international television performances and critical acclaim within the community of magicians caught the eye of Criss Angel, who has taken her as his apprentice. She was featured on his hit Spike TV series, BeLIEve, and appeared in his live show at the Luxor in Las Vegas with a brand new act for six months running. She is currently on tour with The Supernaturalists, which has been hailed by the Las Vegas Sun as "the most mind-blowing magic spectacle out there."
After starring in the award-winning documentary, Make Believe, the U.S. State Department invited Krystyn to travel through Asia. She shared her passions for magic and philosophy, educating teens about critical thinking and personal goal setting. This dedication prompted Teen Vogue to name her one of the Four Youth Activists to Watch. Recently the Magic Castle in Hollywood awarded Krystyn the coveted Junior Achievement Award, proclaiming her "a magical ambassador throughout the world."
---

Scott Green
Scott Green is a professional magician based in Chicago, performing hundreds of shows each year.  A national leader in performing magic for children, Scott is the author of the groundbreaking book of theory and practice, Excellence in Family Magic.
Scott was named one of the 100 best young writers in America in 2009, for a weekly humor column that was syndicated to outlets including The Washington Post.  An avid game show fan, Scott has appeared on "Who Wants To Be A Millionaire?" and "The Price Is Right."
---

JT the Unstoppable
JT the Unstoppable is one of the the finest and funniest performing artists to come out of the Washington, D.C., area. He has been in the magic arts for over 15 years and has honed his skills in top quality entertainment. His specialties include comedy, sleight of hand, stage and close-up magic, circus stunts, and escape artistry.
JT has performed all across the country for festivals, corporations, private events, and even occasional television appearances.  JT was named D.C. Magician of the Year by I.B.M. Ring 50 for 2017-2018.
---

Eric Henning
Master of Ceremonies
People often tell Eric Henning that he reminds them of the great magicians of the past. That's no coincidence, since he has spent more than three decades studying and performing some of the greatest magic in history. While still a student, Eric's love of magic's lore took him to the Maryland Renaissance Festival. More recently, the National Theatre featured his "Turn of the Century" – a Victorian-style show with wonders not seen for a hundred years.  Eric was named D.C. Magician of the Year by I.B.M. Ring 50 for 2016-2017.