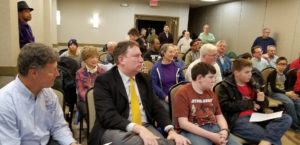 Ring 50 meets on the first Wednesday of each month, except July.  (In 2018, there will be no May meeting due to Magi-Whirl.) 
We meet at the Holiday Inn Alexandria Carlyle, 2460 Eisenhower Ave., in Alexandria, Va.  The hotel is located just off I-495 (Capital Beltway), and offers free parking, a full restaurant and bar, and ample meeting space. 
6pm-7pm: Dinner

Order off the menu in the hotel restaurant and catch up with fellow magicians

6pm-7pm: Counts of Conjuring

Special program for magicians ages 8 – 16

 

7pm: Silent Auction Begins

Members may offer magic items for sale, with 10% of sales contributed to Ring 50.  Please place a

Silent Auction Bid Sheet 

with each item on display.

7:30pm-9:30pm: Regular Meeting

After introductions and brief business items, most of the meeting is dedicated to lectures, performances, teach-ins, or other programs.  See the schedule of upcoming meetings below.
All magicians and magic enthusiasts are most welcome!  Please see the Membership page for details about guests and membership.
2018 Meeting Schedule
January 3: Past Presidents Perform
---
February 7: Mentalism Teach-In
Members will be treated to mental mysteries, mindreading, psychokinesis and spirit tricks at our February meeting. This will be a test of psychic phenomena. Mysteries will be unlocked and taught. Contact President Larry Lipman now if you want to perform and teach the mysteries of Mentalism. Let us read your mind. You won't want to miss this night.
---
March 7: How to Perform For Kids
Lecture by Mike Hummer
---
April 4: Annual Dan Lacey Contest
Start sharpening up your skills and compete at the April meeting for the Dan Lacey Memorial Trophy and the title "Magician of the Year." The winner will receive a rotating trophy, a spot to perform at the 2018 Ring 50 Magi-Whirl, and a free convention registration.
---
May 2: No Meeting (Please Volunteer for Magi-Whirl!)
---
June 6: Member Teach-In

Ring 50 Teach-in will be shaping up for an educational evening to enhance our Art of Magic. The lecturers may present a bit of related magic history, techniques, and then teach a trick or two.